For quality, professional heating installation, don't hesitate to call us!
When it comes to heating your home in Cornelius, North Carolina, you need a reliable system that will work efficiently for a long time. Proper heating installation is key to making sure your heating unit functions well and keeps your home comfortable. At Hodge Heating & Air Conditioning of Lake Norman, our team is well-trained and ready to handle any heating installation job you may have.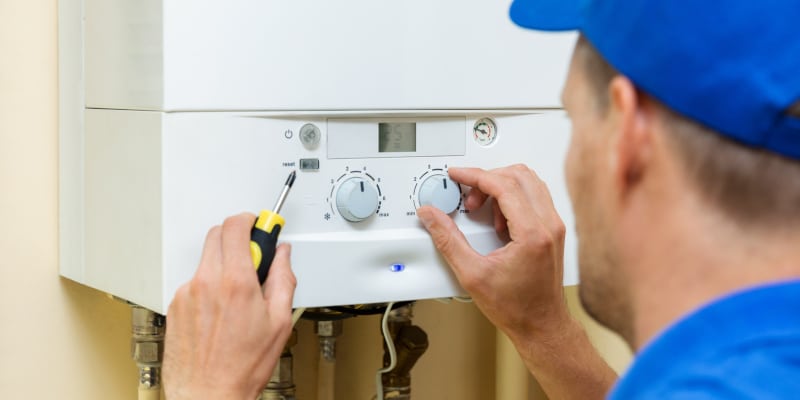 Whether you need a completely new heating unit installed or are replacing an old unit that has stopped working, we are the team to call. We have been providing our customers in the Cornelius area with quality heating installation since 2000, so you can trust us to correctly and efficiently complete the task at hand. We are also able to help you along every step of the process, including determining which heating unit is the best choice for your needs. Each home is different and may require a different model or style of heating unit to be as effective as possible. With the help of our professional team, you can feel confident you are getting the right heating unit and excellent heating installation.
Get $300 off any heating or A/C system
The process of heating installation should always be handled by a skilled professional. Trying to handle your own heating installation service could be disastrous. During the process, an HVAC contractor will plan out the design of the system to ensure sufficient airflow to every room. The placement of the ducts is critical, as is choosing a unit that is properly sized. When a furnace is too small for the size of the house, it will have to cycle on and off more frequently to keep warm air moving. On the other side, an oversized furnace wastes a lot of energy and will cost you more both upfront and in ongoing monthly heating bills.
Our goal with each heating installation in the Cornelius area is to ensure you are completely satisfied with our services. We know having a non-functioning heating unit can be very frustrating and uncomfortable, and we will do all we can to get the job done quickly and properly. At Hodge Heating & Air Conditioning of Lake Norman, we also have access to a full line of HVAC equipment from the top manufacturers in the industry. We'll make sure the unit we install will be able to keep up with the needs of your household while maintaining a warm, comfortable atmosphere throughout the year.
You may find yourself in need of a heating installation service when the system in your home is starting to reach the end of its lifespan. Most heating equipment is designed to last for about 15-20 years, so as yours reaches that point, it's smart to begin planning ahead for the upcoming need for a new unit. When your heating system is wearing out, it will break down more frequently, resulting in the need for costly repairs. In many cases, a new and more efficient system will be more cost-effective in the long-term, helping you save on your monthly bills.
If you are in need of quality, professional heating installation done by a friendly, trustworthy team, make Hodge Heating & Air Conditioning of Lake Norman your first call. We look forward to working with you!
---
At Hodge Heating & Air Conditioning of Lake Norman, we offer heating installation services in Cornelius, Lake Norman, Davidson, Huntersville, and Mooresville, North Carolina.
Similar Services We Offer: