You won't be disappointed with the quality of our furnace service.
Most people don't think about the importance of regular furnace service in Cornelius, North Carolina, but it is an essential part of maintaining the overall function of your furnace. After all, you probably never let your car get too far past the scheduled oil change, right? It's important to maintain your heating system with the same consistency that you maintain your vehicle. At Hodge Heating & Air Conditioning of Lake Norman, we know how necessary furnace service is and are ready to assist you in any way we can. With our help, you can have peace of mind that your furnace is always working efficiently.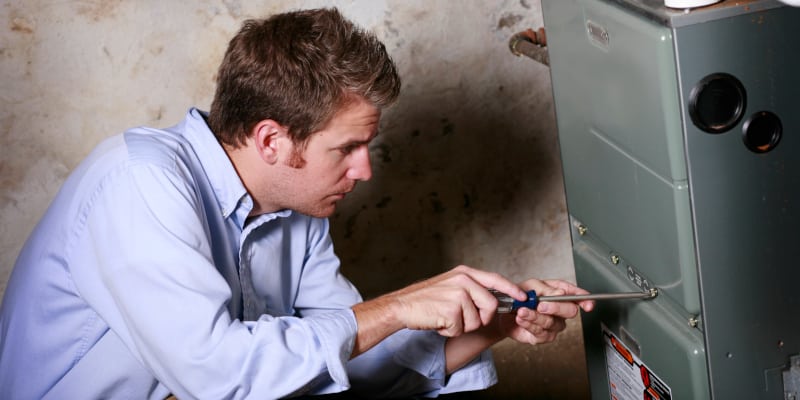 Furnace service is a great way to keep all the parts of your furnace clean and running properly. When you work with our experts, you can expect us to be thorough and detail-oriented, keeping your furnace in the best condition possible. We will take the time to clean off any dust, debris, or dirt that has built up over time and may be impacting the overall function of your furnace. We do our job well, so you can save money, energy, and time on unnecessary future repairs.
During a furnace maintenance service, your HVAC technician will also look for any possible issues that may be impacting the performance and efficiency of your heating system. If we spot any warning signs, we can talk to you about options and perform any necessary repairs as soon as possible, rather than allowing your heating system to continue to operate with a potential issue. Even minor heating problems that are easy to resolve can cause plenty of issues if not properly addressed since they could put extra wear and tear on the components or cause the efficiency of the unit to drop.
Regular, quality furnace service can alert you of any issues with your furnace early on, so if any repairs do need to be made, it will likely cost less money and take less time. Each member of our team will ensure these repairs, if necessary, are completed efficiently and correctly, so your furnace will be up and running well in no time.
Most HVAC equipment manufacturers recommend scheduling a heating maintenance service every fall in preparation for the upcoming colder season. The last thing you want to worry about is having a heating system that won't turn on when you need it most. By having your furnace tuned-up, serviced, and inspected early in the season, you can alleviate those concerns and enjoy a warm, comfortable indoor atmosphere throughout the winter months.
In addition to our furnace maintenance services, we offer a wide range of other HVAC solutions. We can take care of your air conditioning system during the warmer times of the year, as well as provide indoor air quality options to keep your family healthy. Our technicians also provide repairs on most HVAC brands, do oil to gas conversions, perform custom ductwork, and offer many other services.
If you need professional, reliable furnace service in Cornelius, call us at Hodge Heating & Air Conditioning of Lake Norman. You can expect only the best service from our honest and hardworking team. We look forward to working with you!
---
At Hodge Heating & Air Conditioning of Lake Norman, we offer furnace services in Cornelius, Lake Norman, Davidson, Huntersville, and Mooresville, North Carolina.